Seiteninhalt
Shopping and going out
Shopping fun meets a way of life
Whether you have lots or little money to spend, whether chic classics or top-fashion accessories, whether culinary delights or antiques, you wouldn't find on every corner – you will find things in Münster that you'd never find elsewhere. That's what makes shopping a real pleasure: the short journey into the city.
From Monday to Saturday, Münster's shops in the city centre are open until at least 7 pm. However, other big department and chain stores open their doors until 8 pm.
Prinzipalmarkt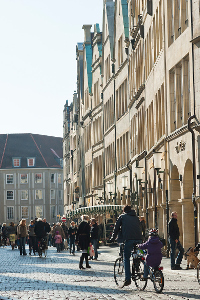 Picture gallery Prinzipalmarkt
The Prinzipalmarkt has been the home and workplace for the merchants of Münster since the 15th Century. The patrician houses with their mediaeval arcades in the unmistakable city skyline between the Stadthausturm, the town hall and St. Lambert's Church open up a world of shopping with an extraordinary charm. Here you will find elegant designer shops door on door with exclusive jewellers, discriminating antique stores, owner-managed specialized stores and individually designed boutiques.
---
Top of page
---
Salzstraße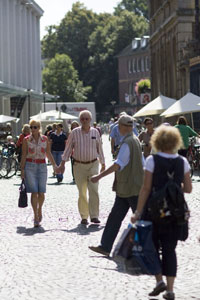 Picture gallery Salzstraße
Münster's oldest trade route extends from St. Lambert's Church to the Erbdrostenhof and the municipal museum. It is a colourful mixture of fashion and shoe stores, chain outlets, jewellery and leather goods and stores offering home decor articles, not to forget the small cafés. In addition to this, historical and cultural sights invite you to explore and linger – and this holds especially true for the "Barockinsel" with the Erbdrostenhof, Dominican and Clemens Church and its baroque garden.
---
Top of page
---
Ludgeriviertel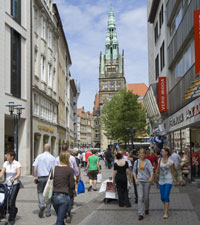 Picture gallery Ludgeristraße
This quarter between Ludgeristraße, Königsstraße, Stadthausturm and Marienplatz offers an attractive mixture of numerous large fashion and department stores, retail traders that are typical for Münster, and numerous restaurants, pubs and cafés. Not only is Ludgeristraße the most-frequented shopping street in Muenster, it is also one of the top ten most attractive shopping miles in Germany!
---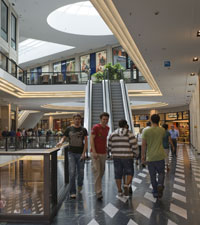 Picture gallery Münster Arkaden
Special attraction: the modern Münster Arkaden, a shopping arcade over three storeys, which not only includes numerous stores but also exquisite cuisine. The arcades also provide a link between the Ludgeriviertel, Rothenburg, Pablo Picasso Art Museum and the new Picassoplatz with its small but fine stores.
Top of page
---
---
Stubengasse und Hansecarré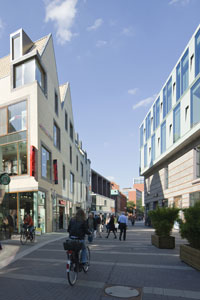 Picture gallery Stubengasse und Hansecarré
Only opened in 2010 – and already awarded the German Urban Planning Prize! With its extraordinary and modern architecture, the Stubengasse is a charming contrast to the historical Prinzipalmarkt. The Hansacarré, which is also modern and which complements perfectly the unique combination of retail traders, service providers, hospitality establishments and hotels, is immediately adjacent to it. The items offered by the two new shopping addresses are just as modern as the architecture. Trendy young fashion chain outlets, bars and cafés on generously designed squares are a new highlight in Münster city centre.
---
Top of page
---
Rothenburg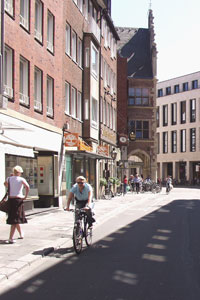 Picture gallery Rothenburg
Rothenburg is an important link between Prinzipalmarkt, Aegidiimarkt and Ludgeriviertel. The unhurried boulevard is a point of attraction with its colourful combination of high-quality chain outlets and local individualists. This is where visitors will find clothing and jewellery stores, home decors and gift items in addition to various catering ideas for all tastes. Art and culture fans will get their money's worth on the Domplatz close by with St. Paul's Cathedral, the Cathedral Treasure Vault and the Westphalian State Museum of Art and Cultural History.
Top of page
---
Kiepenkerlviertel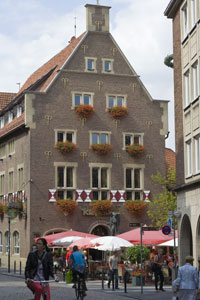 Picture gallery Kiepenkerlviertel
The Kiepenkerlviertel is a destination in the old part of Münster which is just as extraordinary as it is attractive. Local history, lifestyle and customized concepts all come together here to form a special shopping experience. Those who stroll through the alleyways will not only discover many owner-managed stores, but also trendy shops for students. The items on offer hereby include everything from furniture and living accessories to delicacies and exquisite clothing. In culinary terms, the visitor will find everything from typically westphalian cuisine to international cuisine. We recommend a relaxing walk on the banks of the River Aa.
---
Top of page
---
Kuhviertel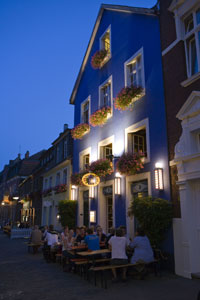 Picture gallery Kuhviertel
The Kuhviertel with its winding alleyways is one of the most traditional quarters in Muenster city centre. This quarter with the Überwasser Church at its centre, is where Muenster is in its most original form. The Kuhviertel with its rustic pubs and Muenster's oldest brewery is famous as being a centre of hospitality establishments and pubs. The Kuhviertel especially has lots to offer for art and antique lovers. Galleries, art dealers, antique stores and the public bookshelves provide the quarter with a special flair.
Top of page
---
Alter Fischmarkt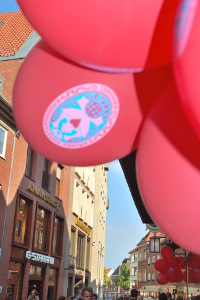 Picture gallery Alter Fischmarkt
The commercial tradition that characterises the Alter Fischmarkt or old fish market, goes backs as far as the Middle Ages when the fish market was one of the two oldest markets in front of the cathedral castle. Nowadays, the shopping mile between St. Lamberti and Bült has much to offer with high quality fashion, a children´s department store and gastronomy. Additional stores for elegant fashion, outdoor apparel and historical public houses make the Alter Fischmarkt an interesting shopping destination. The quarter at the end of the street that opened in September 2013 is also a valuable address in urban planning terms.
---
Top of page
---
Hörsterstraße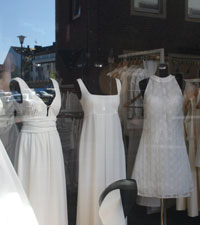 Picture gallery Hörsterstraße
The quarter which surrounds the Hörsterstraße also offers a varied mixture of trade and hospitality establishments. Numerous small fashion stores and exclusive furniture stores, antique stores and art dealers form the basis for an extended shopping spree. Cafés, pubs and restaurants also invite the visitor to take a break or pamper themselves after having completed their shopping.
Top of page
---
Bahnhofsviertel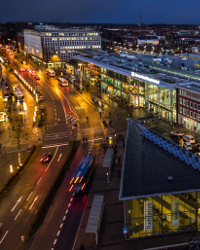 Picture gallery Bahnhofsviertel
The quarter surrounding the main railway station is Muenster's urban shopping and nightlife quarter. Its variety of stores, pubs and restaurants, and recreational possibilities make the Bahnhofsviertel an attractive place to go for both inhabitants and guests. Thanks to the concept of the light artist Christian Breil, the location for renowned hotels, numerous cafés and clubs, not to forget the GOP Variety theatre, bask in a completely new light.
---