Seiteninhalt
Culinary Münster
Münsterland ragout, peppered beef stew, pumpernickel
The traditional Westphalian cuisine is substantial, savoury and down to earth. Eggs and bacon, ham and sausages, hearty meat and vegetable dishes and bread and beer have always been a part of it. This rural cuisine that is as simple as it is tasty, has developed into regional specialities and delicacies that you really should try when you visit Münster.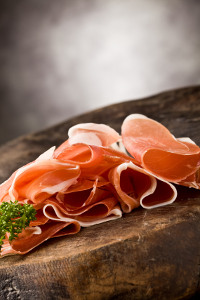 Westphalian ham
Münsterland ragout, peppered beef stew, pumpernickel: even the sound of these specialities bring historical Münsterland to life. Meat dishes such as Münsterland ragout and peppered beef stew are typically Westphalian, but so are hearty stews containing vegetables from the regions such as turnip greens, broad beans and various types of cabbage. A rustical meal that is also typical for the region comprises black bread known as pumpernickel, mettwurst sausage and beer.
The delicacies that Westphalia has had a name for since the Middle Ages especially include the Wesphalian ham on the bone. The fact that Westphalian ham is not mentioned in the same breath as ham from Parma and Serrano is evidence of the great modesty that characterizes the Westphalians.
As each food requires the matching drink, there are also regional types of beer and spirits in Westphalia such as the Münsterländer Korn that top the food off perfectly.
Noble brands, ham and the typical pumpernickel have a long shelf life – as long as they are not consumed immediately – so that they are ideal culinary holiday reminders for yourself or souvenirs for those at home.
Enjoy your meal!
---
Two classics from the Westphalian cuisine: Münsterland ragout and peppered beef stew
Münsterland ragout is an original specialty from the Münsterland. The hearty meat ragout that is seasoned spicy or sweet and sour seasoned was originally for the poor. It soon became a type of Münsterland national dish because it was so tasty. Nowadays, restaurants in the Münsterland cook Münsterland ragout in various versions and it is often served with fresh farmhouse bread.
The Westphalian peppered beef stew is a hearty meat dish that was traditionally cooked at the beginning of the slaughtering period in autumn. It is prepared by beef being gently roasted in lard, soft boiled wit onions, bay leaves and cloves, before being seasoned with large amounts of pepper; it is sometimes provided with a savoury seasoning by adding capers and lemon juice.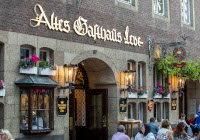 Altes Gasthaus Leve
Altes Gasthaus Leve – Münster´s oldest inn
The "Altes Gasthaus Leve" has been in existence right back to 1607, long before the signing of the Treaty of Westphalia which makes it Münster´s oldest inn.
---
---