Seiteninhalt
Museums in Münster
Friedenssaal (Hall of Peace)
Friedenssaal (Hall of Peace)
The Friedenssaal in Münster's gothic town hall owes its name to the peace treaty between Spain and the Netherlands, which was concluded here under solemn oath on 15 May 1648.
The hall originally served as a council chamber, and its fine renaissance wood panelling dates from around 1577. The gallery of portraits, with its pictures of ambassadors, was purchased by the council in 1649. The furnishings of the Peace Hall, which were evacuated during the second world war, have been faithfully restored.
---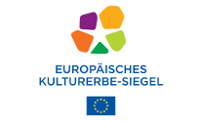 The European Heritage Label
In April 2015, the European Heritage Label has been awarded to the Town Halls of Münster and Osnabrück as the 'Sites of the Peace of Westphalia' by the European Commission.
---
---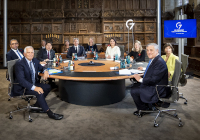 The G7 foreign ministers in Münster
The G7 foreign ministers in Münster
Münster has a great historical tradition as a congress city. Part of the peace treaties of the Peace of Westphalia of 1648 were negotiated in the city for several years.
On 3 and 4 November 2022, Münster was the focus of world political events as the venue for the G7 meeting of foreign ministers. The conference is one of the most important international events in the city's history.
Special page of the City of Münster on the Foreign Ministers' Meeting
---
North wall
Opening hours
Closed Mondays, Tues-Fri 10am-5pm, Sat, Sun, public holidays 10am-4pm
There may be changes to the opening times on some days as a result of events and receptions. Please enquire about this by phone on + 49 (0)2 51/4 92-27 24 or 4 92-27 11 at the information service in the historic town hall.
Admission
(incl. guide with CD in various languages)
Adults 2,00 €
Pupils, students, unemployed, differently abled persons, seniors aged 65+ 1,50 €
Groups of ten and more: Adults 1,50 €, pupils/students 1,00 €
Guides
Guided tours only possible with Stadt Lupe Münster, StattReisen Münster and K3 Stadtführung organisations.
Münster Information is available to answer your queries from 10.00am-6pm Mon-Fri and from 10.00am-1pm Sat
A lift can be installed for wheelchairs by prior arrangement.
Friedenssaal im Historischen Rathaus
Prinzipalmarkt 10
Two information signs for the blind: the history of the gothic town hall and the gable of the house located at Prinzipalmarkt 27 in Braille which can be felt.
---
---