Seiteninhalt
Old Town
The Erbdrostenhof forms a part of the baroque island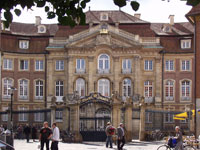 Erbdrostenhof
This masterpiece by the baroque architect Johann Conrad Schlaun built between the years 1753 and 1757 forms, together with the Clemens and Dominican churches, the "baroque island" at the Salzstrasse. Another particularity: Münster's most beautiful nobility court stands diagonally on a rectangular plot of land.
The exterior of the Erbdrostenhof was faithfully reconstructed after the war, serving as the office of the Westphalian State Conservator today. Of the interior elements, only the staircase and the banqueting hall on the first floor were restored to their erstwhile condition.
The building is accessible to the public only for events in the banqueting hall.
Erbdrostenhof
Salzstraße 38
---
---