Seiteninhalt
Old Town
St. Paul's Cathedral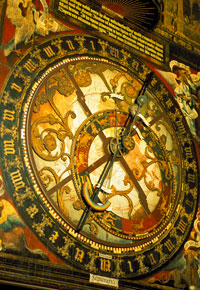 Astronomical clock
The cathedral in its present state is essentially a creation of the 13th century. Of particular note is the astronomical clock, a marvel of the late Middle Ages the calendar, which reaches into the year 2071 (carillon and revolving of the Magi, from Mondays to Saturdays at noon, on Sundays and holidays at 12.30 pm).
A few steps away from the clock is the sepulchral chapel of Clemens August Cardinal von Galen, the "Lion of Münster". Pope John Paul II prayed here in 1987. A memorial stone commemorates this event today.
The cathedral treasury is also worth a visit. Twelve centuries of the cathedral's art and culture are displayed here, making it one of the most eminent treasuries in Europe with its objects of goldsmithing and textile art (Tuesdays to Sundays from 11 a.m. to 4 p.m.)
The Domkammer (Cathedral treasure chamber) is closed until further notice.
---
---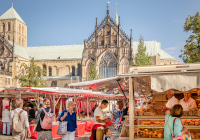 Weekly market
Our tip: The great weekly market takes place in the shadow of the cathedral of Münster every Wednesday and Saturday forenoon. Visiting the market is a must for every citizen of Münster. You shouldn't miss out on it either. You'll find typical Westphalian products as well as delicacies from all over the world, and tradespeople who like to chat. Replenish your energy with hot fried fish or enjoy the colourful hustle and bustle whilst having a big cup of white coffee.
St. Paul's Cathedral
Domplatz
Coarse cobbled paving; wheelchair access is available at the side entrance at the "Uhrenportal"
Induction loop in the first 2 rows of seats
---