Seiteninhalt
Welcome to Münster!
City of science, city of sculptures, city of the Peace of Westphalia, city of bicycles, Hanseatic city - Münster is a living metropolis with many faces. But you'd best make up your own mind, and we wish you a good time doing so!
---
Münstercard
The benefits to you are that it is one card for everything, you have free admission to Münster's top museums and attractions, guided tours are free of charge, you have free use of Münster's public transport (ÖPNV), and free bicycle hire. More information:
www.muenstercard.de
---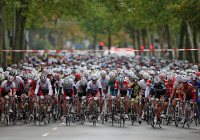 3.10.2018
Sparkassen Münsterland Giro.2017
A festival of cycle racing in the bicycle capital of Germany
For the Münsterland region, the 3rd of October is not only a public holiday, it has also become a traditional cycle racing day.
27.10.2018 - 4.11.2018
Herbstsend
Münster's fantastic funfair
The Send - Münster's biggest carnival and the oldest annual fair in the Münsterland - attracts over a million visitors every year. Around 250 fairground operators from all over Germany come three times a year to present the latest sensations on the Schlossplatz.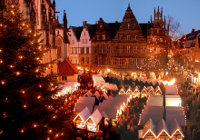 26.11.2018 - 23.12.2018
Christmas markets
Münster's Christmas markets are unique: over 300 stands and festive illumination await the visitors in the wonderful atmosphere of the historical old town. The Christmas market stands are lined up along the market streets like pearls in a chain. They are just a few minutes walk from one another other.