Seiteninhalt
Welcome to Münster!
City of science, city of sculptures, city of the Peace of Westphalia, city of bicycles, Hanseatic city - Münster is a living metropolis with many faces. But you'd best make up your own mind, and we wish you a good time doing so!
---
Münstercard
The benefits to you are that it is one card for everything, you have free admission to Münster's top museums and attractions, guided tours are free of charge, you have free use of Münster's public transport (ÖPNV), and free bicycle hire. More information:
www.muenstercard.de
---
19.9.2020 - 31.1.2021
PICASSO/MIRÓ
AN ARTISTS' FRIENDSHIP
The paintings, sculptures, graphic works, drawings and ceramics in this exhibition record the exceptional friendship between the two Spanish artists Pablo Picasso and Joan Miró.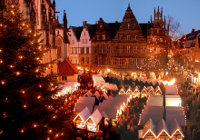 23.11.2020 - 23.12.2020
Christmas markets
Münster's Christmas markets are unique: over 300 stands and festive illumination await the visitors in the wonderful atmosphere of the historical old town. The Christmas market stands are lined up along the market streets like pearls in a chain. They are just a few minutes walk from one another other.